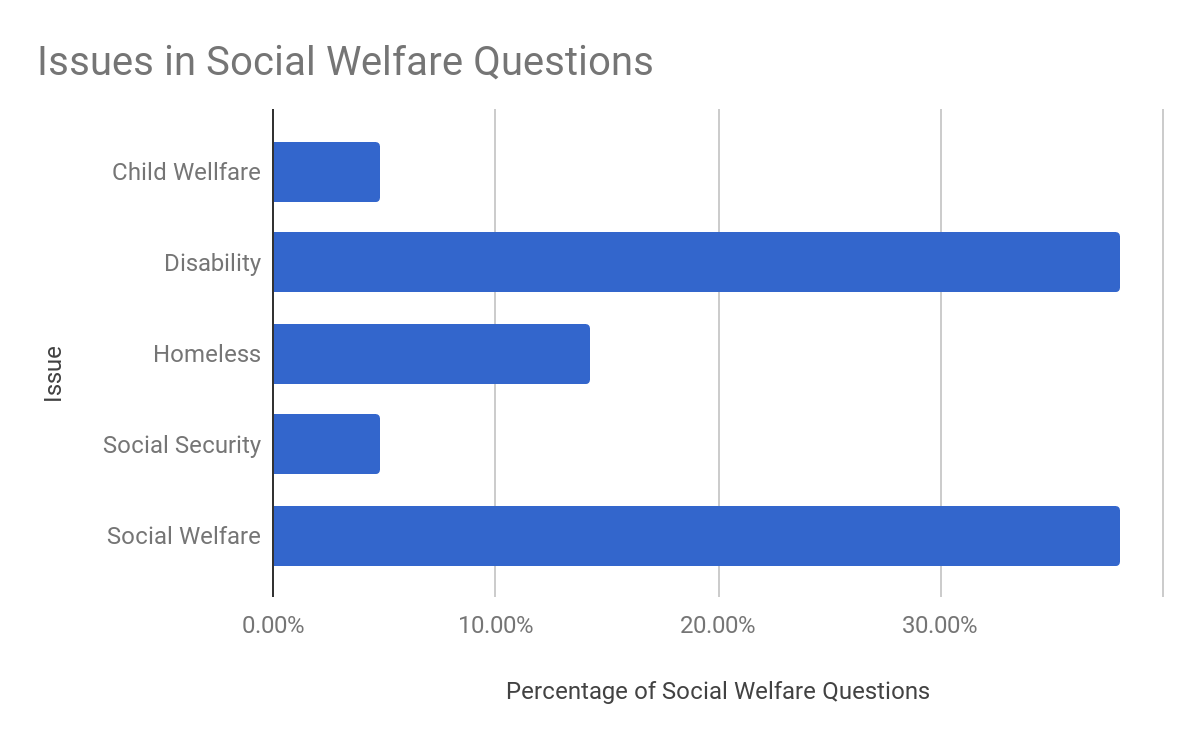 Themes in Social Welfare Questions
Like the questions on the Economy, Social Welfare is a broad category that addresses a range of issues including access to child services, housing and healthcare. A majority of the questions were asked in the context of the state budget and priorities for funding.
What steps will you take to ensure mental health is never defunded as we saw this last year?
Please explain what specific policies you have supported which support Illinoisans with disabilities and how would you make sure that individuals with disabilities are represented in your administration?
Will you commit to a complete top to bottom overhaul of DCFS which would include sending out specially trained nurses along with DCFS investigators on investigations of child abuse?
| | |
| --- | --- |
| What is the issue that you would like candidates to address | What is a question on this issue you would like answered (if you have one)? |
| Disability Rights Protection | Will you support Home Services Program without overtime restrictions |
| Amount of Commitment to social programs, education, health, social security ? | What will you do to make the state income tax more fair? Do you think the rich should pay a higher percentage of their income in taxes? |
| Balancing the state budget. IL paying its bills. | What are the details of your plan to balance the IL budget without attacking social services? |
| state budget and taxes | What is your plan to develop the tax base to pay for the pensions and provide the social services and healthcare to people of Illinois |
| Disability rights | Please explain what specific policies you have supported which support Illinoisans with disabilities and how would you make sure that individuals with disabilities are represented in your administration? |
| Employment For People with Disabilities | Will you appoint more people with disabilities to the Employment Taskforce, close sheltered workshops paying people with developmental disabilities below minimum wage of 22 cents an hour. Employment First integrates opportunity for people with disabilities. Will you enforce it to bring down high unemployment rate of people with disabilities. |
| Housing | What would you do to promote low income housing in Chicago? |
| With the budget issue resolved, fund the programs that keep us healthy - social services and education. | No question. |
| Budget stability | How would you advocate for a stable budget the fully funds education and important social services for Illinois residents? |
| homelessness | why are structure being torn down every where just to leave vacant lots when they could house homeless |
| Child welfare | Will you commit to a complete top to bottom overhaul of DCFS which would include sending out specially trained nurses along with DCFS investigators on investigations of child abuse? |
| Housing for the homeless | What are you proposals for providing housing for the homeless, along with other support services that have proven to be effective in helping homeless to get back on their feet? |