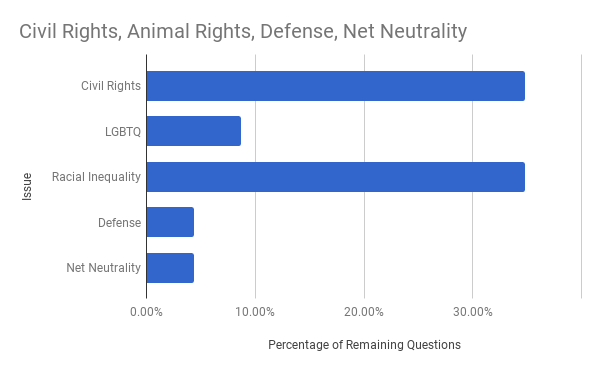 Themes in Civil Rights Questions
As with many of the larger issue questions, those dealing with Civil Rights often fell into multiple categories, encompassing many economic, social welfare and healthcare concerns. Sometimes respondents cited specific groups for discussion (e.g. transgender) but more often just used an encompassing phrase such as "for all".
What kind of programs would you support to ensure civil rights and justice for everyone?
What is your experience with privilege or oppression? How can you encourage racial and class integration and empowerment in urban and rural areas of Illinois?
Other Themes
There were a few questions that fell outside the larger categories, but reflect important and specific issues to respondents. Two at the Federal level; Net Neutrality and Defense, and one at the local and state level; Animal Rights.
Where do you stand on Net Neutrality and why?
Do you have defense industry donors?
[Will you] reinstate ban on cruel steel trapping of Bobcats in IL?
Respondent's Questions
| | |
| --- | --- |
| What is the issue that you would like candidates to address | What is a question on this issue you would like answered (if you have one)? |
| Net neutrality | Where do you stand on this issue and why |
| Defense | What is your position on defense? Do you have defense industry donors? |
| Economic inequality, including racial and gender inequality | Does this system work. My answer: "No" |
| Budget for healthcare, including mental health, transgender protection, women's reproduction rights, and education | What is your stance on legalizing marijuana? |
| What kind of programs would you support to do away with income inequality? | What kind of programs would you support to ensure civil rights and justice for everyone? |
| Economic and Racial Segregation | What is your experience with privilege or oppression? How can you encourage racial and class integration and empowerment in urban and rural areas of Illinois? |
| Equity / social justice / | |
| Racism | |